ADMINISTER POST-INJURY TESTING VIA TELEMEDICINE
ImPACT post-injury testing can be delivered via telemedicine* thanks to a one-time use code you can generate through your Customer Center.
*For supervised administration by a qualified healthcare provider.
It's as easy as 1-2-3
1. GET STARTED
Log into your customer center and click on "Generate a test code".
2. ENTER TEST TAKER'S EMAIL
Select an organization and enter your test takers' emails to generate unique codes for each of them. They'll get an email with all the information, including the required instructions video and a link to their post-injury test.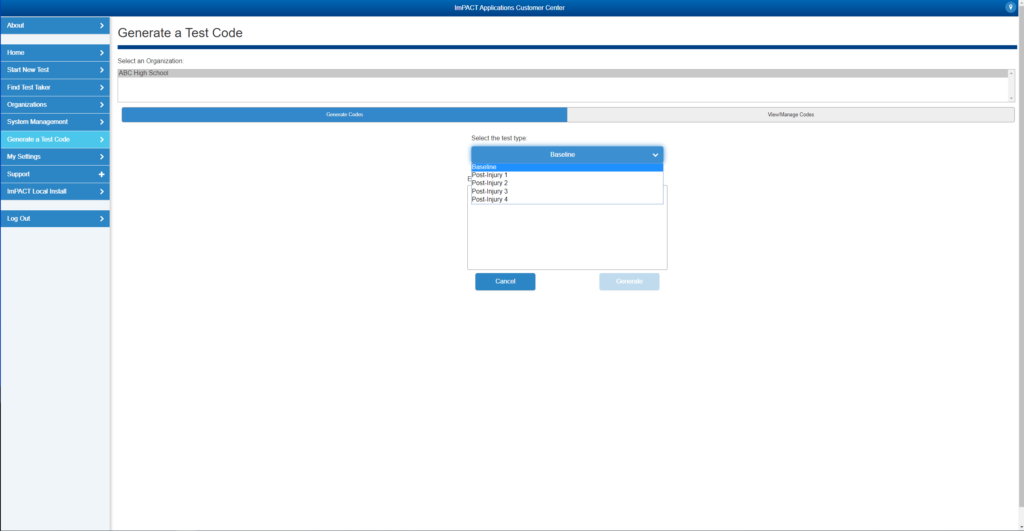 3. MANAGE CODES
Track which test takers took their ImPACT post-injury tests and which unique testing codes expired.
ImPACT post-injury testing via telemedicine empowers healthcare providers to reach more patients and provide concussion care even when in-person visits are not feasible.
Hear what your colleagues have to say.
Kristine C. Keane, PsyD
Neuropsychologist, Director
Shore Neuropsychology and Behavioral Health
"ImPACT post-injury testing via telehealth has been helpful for continuity of care by allowing us to monitor patients' cognitive improvements remotely as well as collaborate with other providers involved in patients' care."
Rishi Bala, MD
Sports Medicine Specialist, Family Physician
Bon Secours Sports Medicine & Primary Care
"As a sports medicine provider, having the ability to administer and supervise ImPACT post-injury test while the patient is at home has been instrumental in helping with concussion assessment. Very thankful to have access to this concussion management tool, especially with telemedicine getting more widely adopted."
Lailah Issac, DO, FAAPMR
Sports Medicine Physician
Nova Southeastern University Sports Medicine Concussion Team
"ImPACT post-injury testing via telehealth has allowed us to continue offering quality concussion care even when in-clinic visits are not possible by having patients complete the test remotely."
Logan Kaleta, PsyD
Concussion Management Specialist
Holy Cross Concussion Clinic
"ImPACT post-injury testing via telemedicine has been helpful for maintaining continuity of care. As our use of telemedicine has expanded, it has provided the opportunity to monitor and promote an individual's recovery, especially from a cognitive perspective. This has added value to our treatment as a lot of our patients are still engaged in academic or work-related activities. "
Danielle DeGiorgio, DO, FAAPMR
Director of Regenerative Medicine
Orthopedic Associates of Long Island
"The ability to administer ImPACT post-injury tests via telemedicine while patients are at home has been pivotal in maintaining continuity of care for my concussion patients. I am happy to offer it as part of my neurocognitive evaluation."
Luay Shayya, MD
Neurologist
Neurology Consultants of Arizona
"Having ImPACT post-injury testing available via telemedicine has been wonderful. I am now able to acquire the important data for concussion management and patients appreciate the convenience and ease-of-use."
Offer ImPACT post-injury testing via telemedicine to your patients and learn about at-home baseline testing.
Get started by selecting your Customer Center region: