Administer baseline testing to groups
Now your test takers can take their ImPACT Baseline Test at home thanks to a one-time use code you can generate through your Customer Center.
It's as easy as 1-2-3
1. GET STARTED
Log into your customer center and click on "Generate a test code". Next, select the organization for which you want to generate baseline testing codes.
2. ENTER TEST TAKER'S EMAIL
Select an organization and enter your test takers' emails to generate unique codes for each of them. They'll get an email with all the information, including the required instructions video and a link to their baseline test.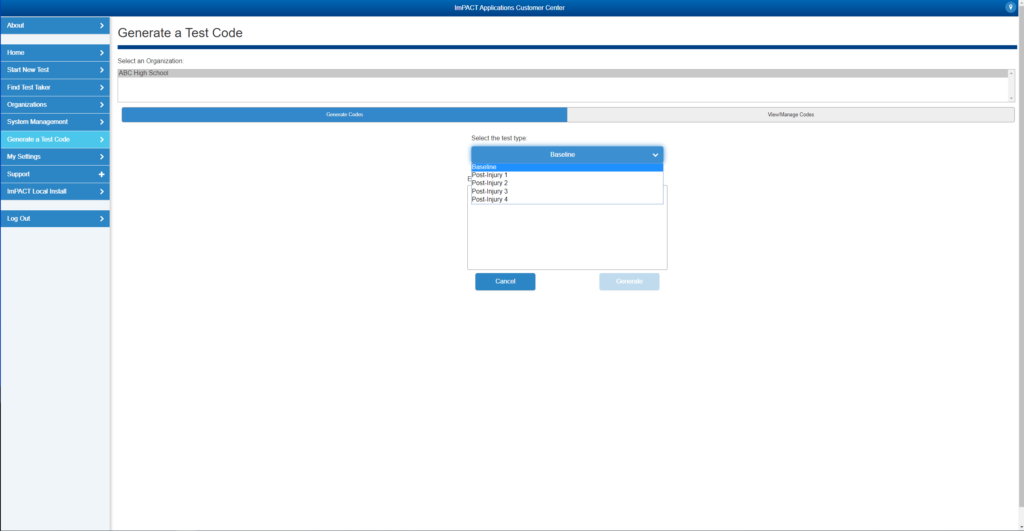 3. MANAGE CODES
Review the codes that you've generated and their status in the 'View/Manage Codes' section. If you need to revoke someone's code, simply click on that user and click 'Revoke'.
This Customer Center feature empowers healthcare providers to reach more patients and provide better patient care all while saving time.
Hear what your colleagues have to say.
Christine Chmielewski
Certified Athletic Trainer/Physican Extender
Johns Hopkins All Children's Hospital
"Johns Hopkins All Children's Sports Medicine program is the official medical provider for the Tampa Bay Lightning High School Hockey League. During pre-participation physicals we offer ImPACT baseline testing to 18 Tampa Bay area schools in 6 counties of Florida. It's now so much easier for us to get baselines for all the players using the Customer Center feature that allows us to send baseline tests to be completed at home. It has not only allowed us to baseline test more student athletes, but also significantly save time during pre-participation exams. This is a great advantage for our physicians. We will continue to utilize this service in the future."
John Wiese
Assistant Athletic Director for Sports Medicine
Biola University
"This feature allows us to save tremendous amounts of time as we process over 300 athletes each Fall. We no longer need to schedule wave after wave of student athletes (50 at a time) into our computer labs and give the overview instructions 6 times to various groups. It is not only convenient for our student athletes but saves valuable time for our staff at a very busy time of year!"
Kato Clinton
ASB Secretary / Interim Athletic Director
Lincoln Middle School
"Since we baseline test hundreds of student-athletes, we needed a tool that was easy to administer and time-saving. The ability to generate codes for at-home baseline testing in the Customer Center has totally changed the game for us. We've saved so much time."
 
Read Lincoln Middle School's Case Study to learn how they successfully implemented an at-home baseline testing model.
Get started by selecting your Customer Center region: